Loose cut dress ANNA CityZen powder blush
Code:
806EL-SV34/36
806EL-SV38/40
806EL-SV42/44
Choose variant
Product detailed description
Sweat is invisible
We guarantee no sweat marks!
Resists dirt
Liquids run over the surface without a trace.
Reduces odour
Made of cotton and dries quickly, thus inhibiting the growth of bacteria.
Premium cotton
Highly absorbent and dries quickly
Fair to nature
Our T-shirts are 100% recyclable and we do not transport them over half the planet.
How does it work and what can the dress do?
Thanks to its hydrophobic treatment, the outer side is protected against stains and dirt. Liquids bead off our women's t-shirt without trace.
The highly-absorbent inner side absorbs moisture and distributes it over a large area. This ensures rapid evaporation of body moisture through the knitted fabric. No more feeling cold from a sweaty t-shirt.
The combined effects of the patented CityZen® technology guarantees that the t-shirt is pleasant to wear,reduces odour and provides the t-shirt with its greatest benefit – wet sweat marks are invisible on the outside.
Size chart
Women's dress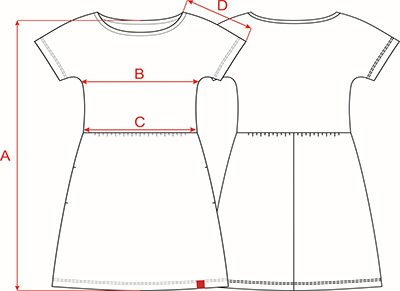 | Size | A | B | C | D |
| --- | --- | --- | --- | --- |
| 34 / 36 | 89 | 53 | 46 | 28,6 |
| 38 / 40 | 91 | 57 | 50 | 30 |
| 42 / 44 | 92 | 61 | 54 | 31,4 |
The measurements are in centimetres.
Cotton is a "live" natural material and there may be some slight seam rolling. Measurement tolerance is +/- 2 cm.

Shrinkage is a natural property of textile materials and must be taken into account. Cotton knits have a shrinkage rate of about 5%, which is the textile standard for knitted items.

How to choose your size?
We recommend you take your favourite dress that fits you well, measure it and choose the closest size from the chart. Measurement B is important.
Measurements of the model in the photos
Height: 166 cm
T-shirt size: 34/36
Be the first who will post an article to this item!